I've decided to do this as a POUR YOUR HEART OUT post, seeing as indeed, I'm writing in regards to something that I have kept bottled up inside since last Friday.
Now, the main rule with this hop/carnival/meme is the "golden rule" of life. If you can't say something nice (or constructive, even if you disagree), then refrain from saying anything at all. Why? Because this may be the ONLY time/place that we that participate in PYHO CAN say what we feel about something that is going on in our lives or are on our hearts/minds.
With that said, if you want to participate too, just click on the PYHO button below, grab the link-up and go for it.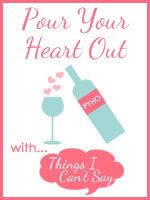 Thanks to a friend over on Twitter,
Tough Cookie Mommy
, who also has a blog here on Blogger of the same title, I have today's post.
She is a teacher, and I am just a parent. But our kids, two states different are having major testing this week. I think her's have more state-based types of testing, due to the name of what it is.
But my two oldest who are in fourth and fifth grades respectively, as well as the third graders, are having SOL testing this week.
What IS an "SOL", you ask? It stands for Standards of Learning. It is a Federally-based/mandated test that the children take one time during the year (near the end of the school year).
Some (3rd and 5th) take all five subjects (math, reading, soc. studies, science and writing aptitude). The 4th graders take only two subjects (math and reading). Plus the kids take SOLs again in High School, also. And in Senior year, if you fail just ONE subject, they will NOT let you graduate High School with your class.
The higher the overall scores for SOLs that the kids bring in, combined, the more money that they get, as well as more close to complete Accreditation. And their intake of funds depends all on those Accreditation percentages.
Now, what's MY beef with this, you ask? Let's start off with the yearly phone call (message board-generated, mind you). It never fails. The weekend before testing week for SOLs and PALS (lower grades) testing, THE call comes in.
"Get a good night's sleep", "eat a good, filling breakfast", "tell them to do their best" and all the other crap.
Now, note that this is the ONLY time of year that this type of call comes out to us parents. And to me, that's pretty pathetic. Why? Because it *seems* that this is the ONLY time of the year that the school TRULY cares (somewhat) about how these kids do, education-wise. But (to ME) it's more about "raking in" the money. Remember, the better the overall percentage of Accreditation scores, and individual scoring (up to 600), the more money from the Government the school receives.
Last night, I asked Bryce if they had let him go to another teacher's room (the Title 1 class), where there would be basically no one but him and said teacher, as to take his portions of the test this week (he did the first of the two already). YEP! He did. And he will again today, as well.
Now, tell me why they would let my child go to another area (be it the classroom, library, office, or wherever) to take his tests for SOL, but they ignore his (and my) request to do this for him during the OTHER TIMES of the school year?
Funny. That has (all along) been one of the (very) few accommodation requests that BOTH (he as the student with special needs, and I as the parent) of us have asked a number of times for during the last few school years. In writing AND in person.
Right now, the school's finances and their reputation are on the line within the eyes of the Federal Government. But they need to WAKE UP and realize, too that their reps are ALWAYS on the line with the general public at large AND with the parents of the students that they serve.
While it's no longer surprising that this happens to Bryce EVERY single school year, it certainly does piss me off. Because it blatantly shows (in my eyes) that they care (obviously) more about the money than the children and THEIR potential and ability.