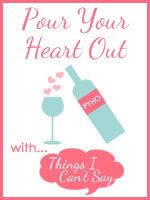 **
Reminder
..Those of us linking up with Shell at
PYHO
are literally writing from our hearts, what is on our minds. Good, bad and indifferent. It's a place to
BUILD UP
, not tear down those of us participating. So, if you have
NOTHING
NICE
to say in your comment, please refrain from commenting at all.**
I've got a lovely, sweet, funny and kind new Bloggy and Twitter friend. Her pen name is The_Drama_Mama over at
The Scoop On Poop
. I have even added her blog to my Blog list of Special Needs Bloggers here in The "Mental"-ist Mom. Most of the time, she shows us what her life with a child with many mental disorders is like using humor and seeing the lighter side of life.
But she took on a more serious topic for
MommyLeBron
's "Bipolar Tuesdays" and has shown what progress her daughter has made who's got most of the same diagnosis as what Bryce has as well. To say we "relate" is a clear understatement.
After reading the last comment that Drama_Mama_ had made in regards to our "kind words", the last line struck a chord with me. One that I still at times wrestle with.
Denial.
At first, when my son was a toddler and even a baby, I "denied" that I saw some "strange" things. Like not wanting to be held or touched much. Not liking the textures of certain food types. Crying at loud sounds like a fire engine. Ordering things, and getting profusely upset if you even slightly changed the order or the way the objects sat.
Then came the nasty mood swings that I chalked up to the "Terrible Two's" and "Horrible Threes".
But how can you "deny" facts like your child beating his sisters almost senseless or pulling a knife or hammer on you at the ages of 4, 5 and 6 years old, knowing he NEVER is able to watch movies that "promote" violence such as that?
I tried to "deny" the obvious for so long. And even when I did let myself see the REAL picture and magnitude of my child's problems, his father still was in denial himself. Until he saw Bryce actually pull a pencil on his older sister and heard his son say that he was going to stab her in the heart and kill her...over a TOY.
Not to mention the attention, focusing and extreme hyperness that got him in to trouble with the classroom Kindergarten teacher.
It took us a good two years to get ANYONE to listen and to lead us in the right direction. I definitely suspected (highly) ADHD. But of course the "doctor" (Pediatrician) chalked it up to his just "being an overly active, typical boy". Even after I stated the volatile states and severe mood swings.
At that point, I wondered who indeed was the one "in denial". And I had a CREDIBLE person attend that appointment with me. My mother-in-law who (at the time) was a (still) practicing nurse!
After almost a year later of the same crap, I finally got him in to his current Psychiatrist. It took at least three visits before the doctor would confirm or deny ANY kind of diagnosis for Bryce. He wanted to see my son a few times, get reports from the school, his Primary doctor and what the Case Manager where we go monthly had observed.
When all the pieces were fit together of the intricate puzzle that was my child, at least one firm thing was confirmed. My son has *SEVERE* ADHD. As I sat there and heard the OFFICIAL Dx, I bawled. And not from anger or sadness. From relief. FINALLY. Someone heard me. They BELIEVED me. I no longer had to TRY and deny "something" was off or wrong. After two extremely hard and long years, we were getting somewhere.
Parents like myself, The_Drama_Mama, Angel over at
A Drink Of Sweet Tea
and a host of others in my Blog Buddy List have times of denial. It's our way of "escaping", if just for a moment. It helps us see the true reality of what our children have to deal with on a daily basis.
Sometimes, "denial" can be a blessing. The reality is ALWAYS with us. But to "pretend" once in a while that our children are like ANYONE ELSE'S, even just for a brief moment, or have the deep-seeded hope that one day our kids will "grow out of it" gives us a tiny bit of our sanity back.
Denial doesn't (always) hurt anyone, if you are in denial for the "right" reason, and not to the point where it can damage you, your child or your family further.
Hence the question... "Why OUR kids!?"
Because they were put here to teach us something about ourselves. Patience, kindness, looking past other's differences, and a host of other reasons.
They weren't our "punishment" for something done in our past. They just want what we all want. Love, acceptance, the chance to meet their full potential and to show the world that "being crazy" isn't necessarily a bad thing.